The church transports patients in need of dental services to our Longwood location.
"Our mission is to provide free, quality medical services while reflecting the moral values of Islam. We offer primary care, dental care, and other specialist services to the uninsured and indigent population in Central Florida."
AMCC at the City of Sanford
AMCC at the City of Sanford commissioner Kerry S Winger's annual community meeting on 12/15/22
Chronic disease evaluation &management (Hypertension & Diabetes), Preventive care, Physicals
Book an Appointment

Blood pressure & diabetes checks, Referrals to our free clinic, if needed.
Check it out!
LONGWOOD OFFERS FREE CORONAVIRUS TESTING
American muslim community clinics
TAKE A PEEK INSIDE OUR SERVICES
PRIMARY CARE
free quality medical service
DENTAL CARE
SPECIAL DENTISTRY TREATMENT & SERVICES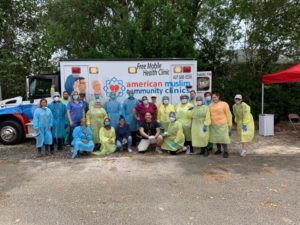 HEALTHCARE SERVICE
aDULT HEALTHCARE TREATMENT & SERVICES
OTHER SUPPORT SERVICES
COMMUNITY EVENTS PROGRAMS AND SERVICES